Review Management
Monitor Your Online Reputation & Acquire Reviews For Your Business
Get A FREE Quote
( from $99.99)
Online Reputation Management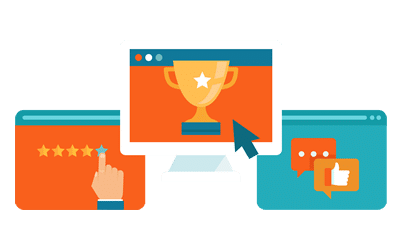 A Search Engine Land survey shows that 72% of consumers trust online reviews as much as personal recommendations. Positive customer reviews may be some of the most effective marketing you can do for your business. DoubleDome Review Management helps you tactfully ask customers for reviews on Google, Facebook, Yelp, and the industry-specific review sites that matter. Our service also protects your reputation by proactively catching negative customer reviews so you can take action.

Review Management Includes:
Review Monitoring – 24/7 Monitoring Of Google, Facebook, Yelp & Industry-Specific Sites
Review Notifications – Immediate Alerts Notify You Of New Reviews (Good & Bad)
Review Requests – Ask Customers For Reviews Via Email, Text & Signature Line
Review Promotion – Post Positive Reviews To Your Website & Social Profiles
Reputation Reporting – Monthly Reporting On Review Trends And Average Ratings
See Your Current On-Line Reputation
Use our free Review Scan to generate an instant reputation report and see how your business appears on local review sites.
What Our Customers Have to Say

"Getting reviews matters in our business. Some store managers and employees didn't understand how important this was to the success of their store. DoubleDome helped us standardize the process and monitor each locations performance. This ensures every location is building a good reputation when someone Googles us."
B. Whitney
---

"We didn't think we needed to monitor our online reputation. Then we discovered a bad review created by an ex-employee. Discovering that anyone can review any company location was a real eye-opener. With 5 facilities, we needed someone who could keep an eye on all of them. DoubleDome monitors all of the major review sites to ensure this doesn't happen again. We even requested reviews from clients to lessen the impact of the negative one."
D.  Dunaway








Acquire Authentic Customer Reviews & Monitor Your Online Reputation.
OR CALL 404-873-2212