By Jim Clanin
Online sales continue to grow in nearly every industry. Nearly every brick and mortar store adds online sales and ecommerce as part of their store's marketing plan and sales strategy. On the same trend, there are several online retailers that started online, but never opened physical stores like Amazon, eBay, Overstock.com and other online stores. It's expected that some of the biggest brands of the next ten years will sell online only, and not have physical stores. If you're looking to add ecommerce to your business plan, or sell online, here are 7 reasons to consider using Magento for your ecommerce platform.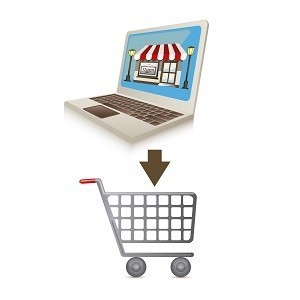 1. Open Sourced Software is Customizable and Affordable
Owned by eBay, Magento is currently the world's fastest growing open source (free to download) e-commerce platforms available in the marketplace. Because coders and software developers can change open-source software easily and provide custom ecommerce sites with few restrictions, it often reduces costs and saves companies money. Open Source allows for custom application and delivery!
2. Easy Web Site Management
Magento can handle multiple stores and operate stores on multiple websites with the ease of managing them all on one admin panel. The platform allows you to manage all customers and all sales from one database. The efficiency of having them all in one place saves a webmaster or business owner a lot of time when managing sales or placing inventory orders. Magento also offers several user-friendly features including multi-language options, order management, shipping, product browsing, international and multi-currency support.
3. Search Engine Optimization (SEO)
If you want a successful ecommerce site, your online customers need to be able to find you or your products and services easily when they search for it on the major search engines like Google or Bing. Magento is very search engine friendly because it creates tags, descriptions with keywords and clean URL's. The platform also offers tools like Up-Sells and Cross Sells that encourage shoppers to look and order more products and services on you site, directly helping increase revenue generation and sales. Some of the Magento SEO tools are free, and some have a small package fee.
4. Integration With Google Tools, Analytics and Reporting
Magento online stores are associated with Google Analytics, Google Base and Google Checkout, which helps ecommerce store operators keep track of site visitors and their online behaviors while visiting the stores. These Google tools provide reports on search terms used within your store; search terms used to get visitors to your store, most viewed items, shopping cart abandonment, etc. These tools help you analyze your visitors' behavior and provides you with information to help improve your visitor's shopping experience, and increase sales.
5. Secure Shopping for Your Customers
Customers can feel secure making purchases from a web site with Magento as the platform because stores owners can easily implement SSL security IP dedication. Knowing that a site is secure makes customers feel at ease, and can help increase sales and an ecommerce sites conversion rates.
6. Several Payment Options
Providing several payment options and methods can increase conversion rates with online stores. Magento offers several payment methods including PayPal, Authorize.net, Google, check, money order, credit cards, purchase order and several other payment options.
7. Web Designers Like the Platform
If you're working with a web designer, chances are Magento is one of their favorite ecommerce platforms to use because it is:
Easily customizable
Can be tailored to each client
User friendly
Offers scalability as a business grows
Supports mobile commerce
Provides a lot of functionality direct out of the box
Provides everything you would require to start an ecommerce store
If you're looking for an ecommerce web designer to design your ecommerce site, or upgrade an existing one, call the team at DoubleDome Digital Marketing. We're experienced with Magento ecommerce solutions, and it's our recommended platform for new clients. Call us today to talk about your e-commerce project and needs.