Our mission is to provide every client large and small with a customized Internet marketing solution for a fair price with the best possible customer service experience.
Firm Overview
How it all began… The year was 2000. The .com bubble just burst. With only $500 in start-up money and a crazy dream to be their own bosses, Chris Bradley and Jim Clanin decided to start their own digital marketing agency in Atlanta.
DoubleDome's original mission was to provide every client large and small with a customized Internet marketing solution for a fair price with the best possible customer service experience.
Now, 20+ years later, that original mission still holds true. It is the driving force behind everything DoubleDome does for their clients.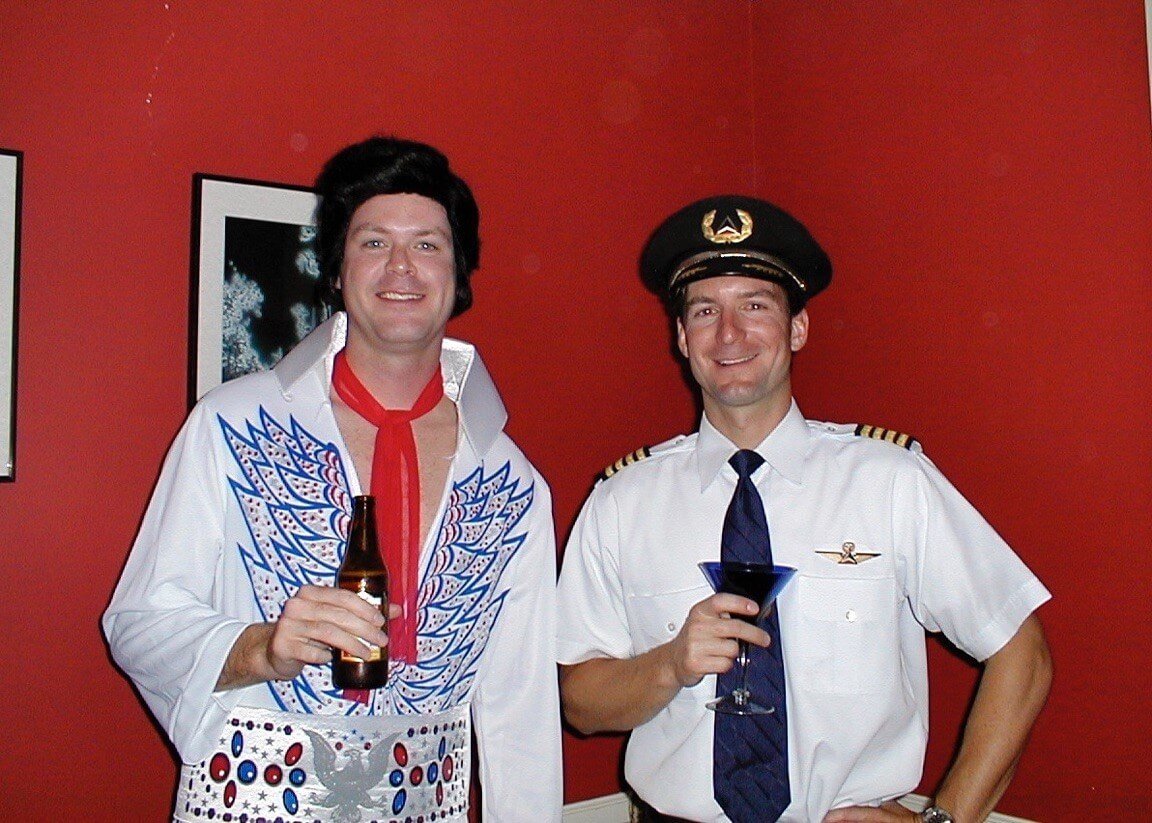 Throwback to 2000. Chris Bradley (Elvis) and Jim Clanin (Pilot) celebrating Halloween and dreaming of growing a successful digital marketing agency in the future.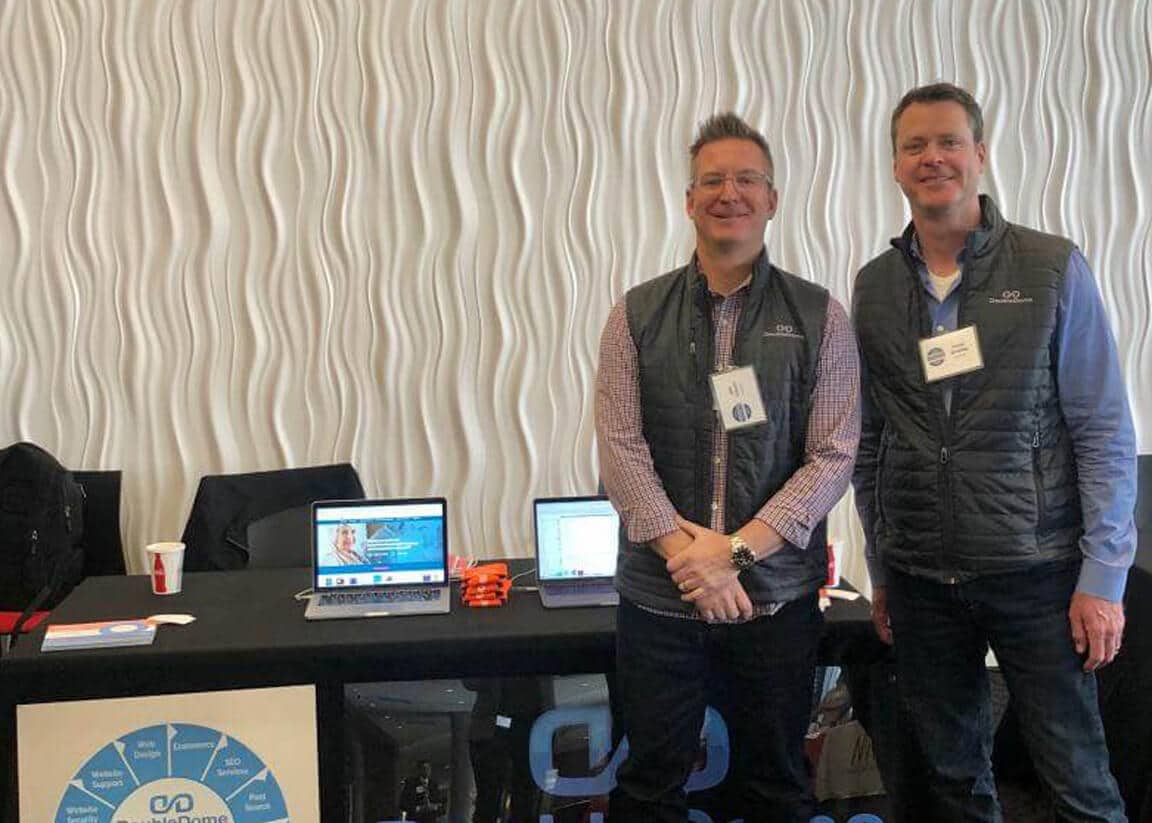 Public Relations Society of America (PRSA) Georgia Chapter Annual Conference 2020. DoubleDome created the chapter's new website, and they are proud to be sponsors for 2020.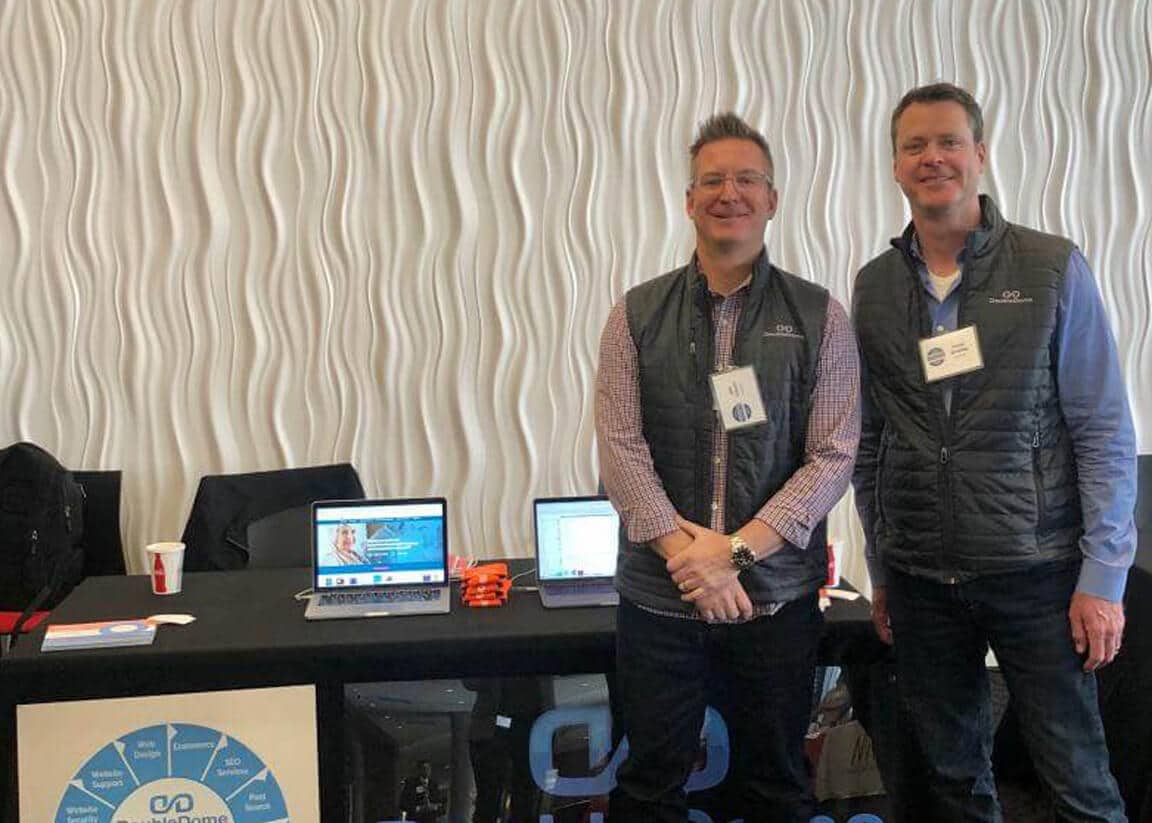 Public Relations Society of America (PRSA) Georgia Chapter Annual Conference 2020. DoubleDome created the chapter's new website, and they are proud to be sponsors for 2020.
Our company has worked on custom web design, ecommerce website development and search engine optimization consulting for organizations large and small such as Home Depot, Cox Communications, Adair-Greene McCann, AARP, CNN, Pfizer, Shaw Industries, Boise, Caraustar, Roche, Nicole Miller, Peachtree Planning, Yokogawa Electric and countless others.
Contact us today to discuss your Internet marketing needs. We will provide free consultation and a detailed formal proposal that defines the best possible solution for your organization.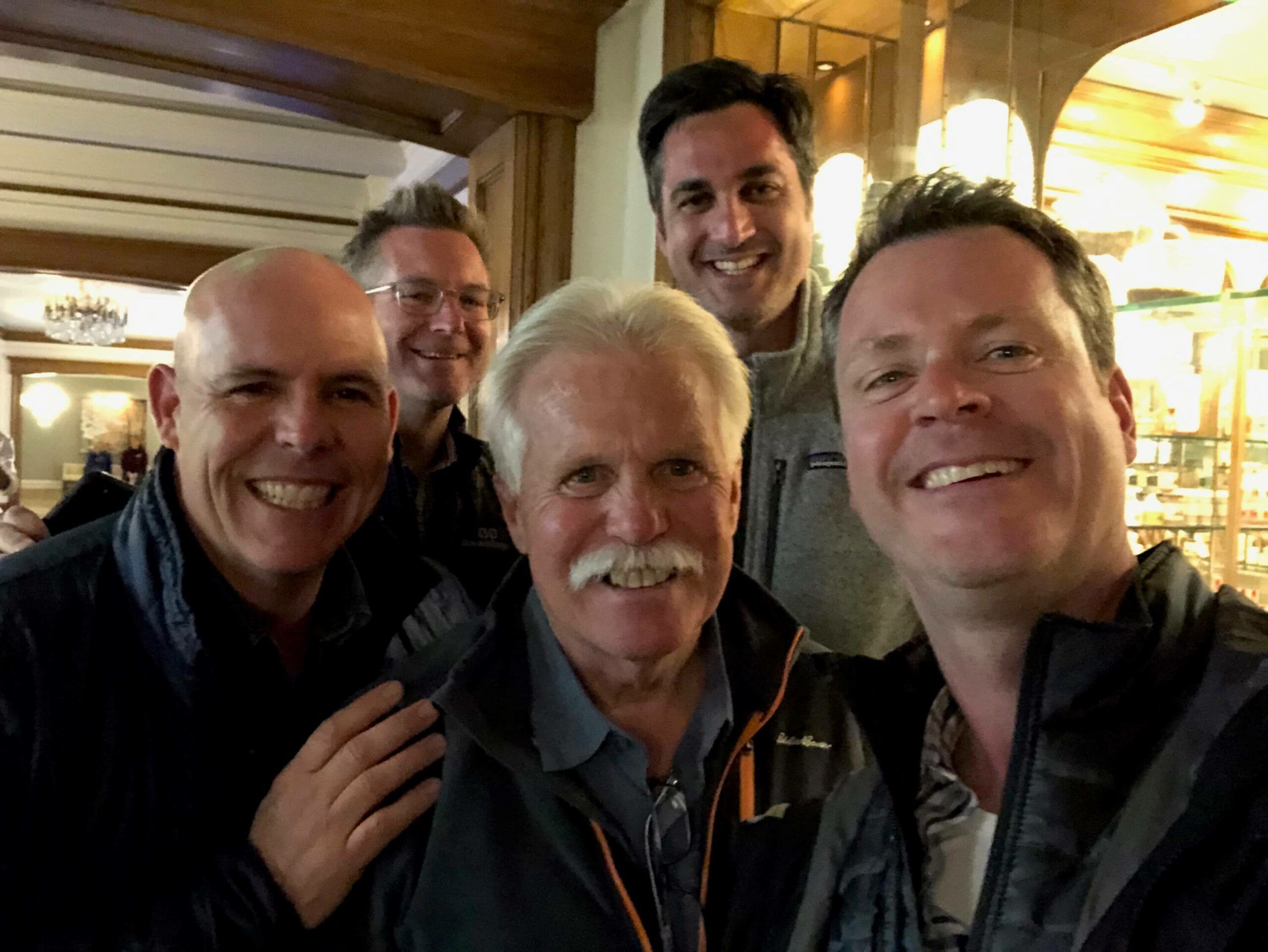 Mixing Business & Pleasure at the WERKS Porsche Reunion in Amelia Island. We create longterm partnerships with our clients, such as Timur Yuzbasioglu with UPS and Noel Fournier with Worldwide Jet, that extend outside the office.
THE WARM AND FUZZY DETAILS

20+ Years
Founded in 2000
(yes, that's when the .com bubble burst)

3000+ Projects
Over 3000 Interactive Projects Completed
(and we're not even tired)

Happy Clients
Hundreds of Active Customers
(that we know by name)

Fortune 500
Projects with Fortune 500 Companies
(isn't that fancy pants)

Partner/Collaboration
Ad Agencies and PR Firms Outsource to Us
(and you should too)

20 Years of Profitability
Profitable Every Year & 15 Years of Double Digit Growth (mmm bacon)
MEET OUR TEAM

CHRISTOPHER BRADLEY
Co-Founder, President & Director of Sales and Marketing
Chris co-founded DoubleDome, merging his business degree and technical consulting experience with his fondness for all things Internet. Focused on sales & marketing, Chris has led DoubleDome to 20 straight years of profitability.

JIM CLANIN
Co-Founder & Director of Production & Client Success
As co-founder, Jim brings his vast creative design skills and project management abilities to the firm. Creating beautiful and functional web solutions for every client is Jim's #1 Priority.

JO MEDICO
Director of Client Services
With her combined experience in retail sales and eCommerce, Jo is a highly qualified professional to take on the role Client Champion. She is focused on becoming a proactive and value-adding partner to all of our clients.

PARAS MANI JAIN
Head of Development & Support
Paras has been an integral part of the DoubleDome team for over 12 years. He is an expert in PHP, Zend Framework, WordPress, Joomla, Magento & many other CMS and E-commerce platforms.

EMER HARKIN
Creative Director
Emer started out in B2B publishing making the transition to Web Design Consultant and Creative Director for an SEO firm prior to joining DoubleDome. Emer's creative design skills go hand-in-hand with her ability to understand how to integrate the right design into the dynamic systems we create.

KEVIN UFARTE
Graphic Designer
As a graphic and web designer for more than a decade, Kevin has been helping brands evolve and grow through visual identity to communicate and inspire, websites and interfaces to assert an online presence, and animation to bring these brands to life.

SONNY DAY
WordPress & WooCommerce Technical Support Specialist
A customer happiness engineer, Sonny has over 6 years of experience in WordPress and WooCommerce. He has a strong commitment to high standards of web design, user experience, usability and speed for clients' websites.

JANICE RAMOS
SEO Specialist
Janice is our SEO specialist with several years of experience optimizing websites and building high-quality natural backlinks from websites with high domain authority. She also has some experience with media buying and site building through WordPress.
What Our Customers Have to Say

Tom Brilliante
DoubleDome updated our optometry site from top to bottom. They were able to give it an exciting new look that was well-suited to the practice. We had a variety of special requests and the people at DoubleDome were able to ensure that every point was taken care of in a timely manner. I would recommend them without reservation to any business that is in need of web development. Easy to work with, and excellent outcomes.
Tom Brilliante

Ashley Pilgrim
Our partnership with DoubleDome has resulted in an innovative and more user-friendly website. With increased flexibility and new opportunities to integrate our various channels, the website is our cornerstone for more effective communications with our members and gives us an online presence that shines. We look forward to building on our relationship with DoubleDome and strongly encourage others to explore their services.
Ashley Pilgrim
PRSA Georgia

M. Strickland
Who has time to do all their marketing? We certainly didn't. DoubleDome's huge list of services is great for us. They put together a program that makes sure we're doing everything we should every month.
M. Strickland

Beth White
I can never thank you enough for the great work that you did for "us" and your above and beyond-ness, taking time to explain the details is such a rare thing in business and we're truly fortunate to have found you.
Beth White

Mary Olsen Newton, APR
I've been working with DoubleDome for nearly seven years and have been incredibly pleased with their support. From website design, development, hosting and digital marketing services, they truly are a "one-stop shop" for all our website and digital marketing needs. They're responsive and accessible when I need support, and they're able to clearly explain more technical processes and details when I have questions. If you're in need of a beautiful and optimized website that will get seen by your target audiences, I highly recommend that you call DoubleDome!
Mary Olsen Newton, APR
Chief Communications Officer, A.G. Rhodes

J. Anderson
Our brand was dated and showing it's age. DoubleDome helped keep the feel we'd had for so many years, and bring it into this decade. I'm really happy with the project and the results.
J. Anderson

Julie White
I wanted something simple yet memorable. DoubleDome was great at designing what was in my minds eye. Thanks so much!
Julie White

Logan Belz
I'd like to express my high level of satisfaction with your website design service. You're company did an exceptional job of implementing my idea into a dynamic and visually striking website and the entire process was seamless from the beginning to end. The staff at DoubleDome was always readily available and very knowledgeable. I would highly recommended your service to anyone looking to create a new website or improve upon an existing one.
Logan Belz
My Home Owner Claim

Joe Edwards
I have been working with DoubleDome now for about 8 years. During that time I have referred them to several of my top customers. I have always received glowing praise about the company for their work which speaks volumes. DoubleDome is a company that you can rely on, and enjoy working with.
Joe Edwards
Vice President, Sales and Marketing at IMAGERS

David Delaney
DoubleDome's professionalism, extensive knowledge and creativity all came into play to design a online store that makes my unique automotive lighting products available to the world. What started out as a few LEDs, a scratch pad and an idea has turned into an ecommerce business with clients worldwide thanks to DoubleDome.
David Delaney

N. Jackson
We've been working with DoubleDome for 15 years. They started out as our web designer, and that grew into doing our digital marketing services. With their help we've created a model for quickly generating sales in new markets and have expanded from one state into five!
N. Jackson

Nancy Evans Elrod
DoubleDome makes changes to our website promptly, efficiently, and courteously. We have the input we want in creating and maintaining our site. They are a pleasure to work with.
Nancy Evans Elrod
Co-Owner, The Corner Pub