ADA Compliance: A Robust Solution For Your Website
SCHEDULE A FREE CONSULTATION
"*" indicates required fields

DoubleDome has become an agency partner with Userway, a powerful Web Accessibility Solution for ADA and WCAG compliance. Userway is the industry leader when it comes to web accessibility. We are excited to be able to offer their cloud-based products to help ensure compliance for our clients' websites.
Make sure your web site is WCAG 2.1 AA Compliant
Lawsuits for non-compliance are becoming more and more prevalent. Now it's important to comply with website accessibility requirements.
We realize the requirements for a compliant website are still quite subjective. Reading between the lines and rebuilding your site for compliance can be quite frustrating and time consuming. Userway's robust accessibility solution are fully cloud-based and don't require modifications to your existing site code while ensuring legal and regulatory compliance, including ADA, Section 508, WCAG 2.1 AA, and much more.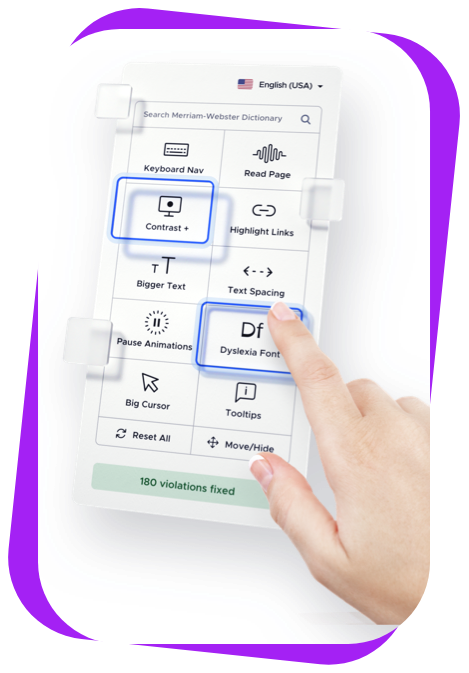 Strict Compliance
Userway: A Privacy by Design Solution
Userway offers strict standards without affecting user privacy. As a result, the architecture is COOPA, FERPA, HIPAA, GDPR and of course, ADA compliant!
These strict standards ensure that every industry, including government & public sector, healthcare, IT & security, education, banking & financial, consumer & retail, hospitality and more, can benefit from providing their users with UserWay. It really is the most powerful suite of integrated accessibility solutions available.






UserWay's 
AI-Powered Accessibility Widget
$490/year OR $49/mo
$149 One-Time Setup
Includes setup and integration of the Userway widget with custom colors to match your site theme, site review and adjustments to ensure visual integrity, and updating your website's Accessibility Statement.
UserWay's AI-Powered Accessibility Solution ensures full WCAG 2.1 compliance while also providing a comprehensive array of accessibility tools and functions for web site users.
Full suite of AI-powered accessibility function.
Fully customizable.
Continuous real-time accessibility monitor.
WCAG 2.1 AA, ADA, Section 508 complain.
Evergreen, always-on cloud update.
Link to Accessibility Statement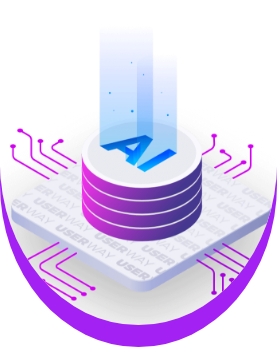 Main Benefits of Becoming ADA Compliant with Userway
ADA & WCAG 2.1 Compliance
UserWay's best-in-class accessibility solutions ensure your web site is ADA and WCAG 2.1 compliant.
Protect Your Company From ADA Lawsuits
Protect your website from accessibility-related lawsuits with the world's strongest automated solution for accessibility.
Enhanced Usability and User Experience
Accessibility sets your website apart and showcases your commitment to inclusion – all while boosting SEO, search rankings, conversions and your bottom line.
FAQ
Nope.  You are not required to add an ADA Compliance widget to your web site.  But we want you to be aware of web accessibility regulations and we don't want you to be at risk.  We feel that is is important to make the web accessible to all.  We also want to be clear and upfront about possible litigation for businesses that are not web accessible compliant. 

Yes. Luckily, you won't need it when running UserWay's AI-Powered Accessibility Widget. But if you do receive a demand letter, claim or lawsuit, UserWay provides an assessment of the claim's validity, a Statement of Compliance as proof that your site was accessible with UserWay's AI-Powered Accessibility Widget and, if required, an expert opinion as part of your official response to the claimant.

It very well may be compliant. The guidelines on what makes a website compliant are fairly vague and quite subjective.  This makes it easy for someone to find elements of a website that are in violation which opens the door to litigation.  Using UserWay is the most comprehensive way to ensure that your site is compliant.  Manually remediating a site so that it is fully-compliant can be quite expansive.

The Userway AI Widget has been rigorously tested and optimized to ensure there is no impact on your site's load time. Both the widget and the remediations to your site's code are done asynchronously after your site has finished loading.

The short answer, No…. The ADA is not going after businesses.  But law firms that specialize in Accessibility law are now seeing websites and businesses that are not compliant and threatening with legal action often requiring a settlement to stay our of a courtroom.  The Userway AI solution thwarts these attacks.

Trusted by More Than 1 Million Websites from SMBs to Enterprises