An Atlanta SEO Company
30 Trillion pages on the Internet. Where does your site rank?
Organic Search Engine Optimization – Campaigns that drive visits, leads and sales growth.
Search Engine Optimization (SEO) is a process for getting your website listed higher on search engines like as Google, Bing and Yahoo. (More about "What Is SEO") While search engines may rank your site, what you really want is visitors, leads and sales. That's why you have a website isn't it? You want your website found by as many of the right people as possible. You want qualified visitors!

DoubleDome loves SEO. That may sound odd, but we really do! Seeing our client's site on the first page of Google helps us sleep at night. Our SEO services deliver lasting results that extend beyond a short-lived jump in rankings. We take pride in SEO strategies that hold up to future algorithm updates.
FACT: 70% of searchers choose organic links over paid ads.
Millions of people use search engines to find products and services daily. Seventy-five percent of potential customers never scroll past the first page of search results. Is your website on the first page? Are your competitors?
We offer Search Engine Optimization services to meet every business' need. Our highly experienced SEO consultants determine the most effective keywords by researching keyword linguistics and keyword phrase queries for each of your products or services. Whether your audience is consumers, businesses, investors, or the press, we use our partnerships with the major search engines to secure unmatched positioning and excellent rankings. Websites of any size can benefit from our SEO solutions.
DoubleDome moved us to the top rankings in 6 major metro areas in less than 30 days. I couldn't believe how quickly the SEO took hold. J. Walton
---
Our SEO Services Include:
---
Keyword Research
Our SEO campaigns begin by determining keywords your "ideal customer" uses when searching for your product or service. This is a critical step of the process that should never be taken lightly. Finding the right keywords are the key to getting the right visitors to your site. People who are actively looking to buy!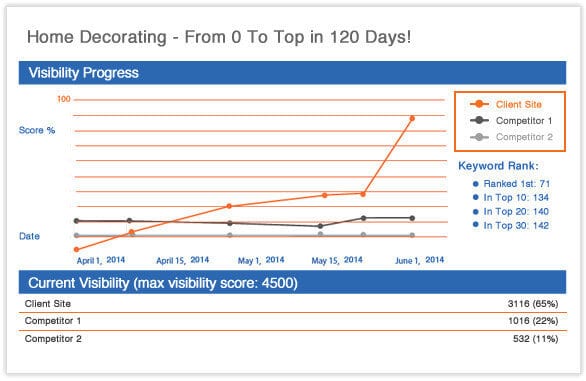 We locate the best keywords based on search volume, competition and website relevance. Getting this right the first time can save months of work and accelerate your ROI.
Our small business is competing with the major players now that our website ranks so well on Google. K. Satler
---
Competitive Analysis
The web is extremely competitive and only getting harder. Your competitors are optimizing their website to be found for your services and capturing leads from your prospects. Investigating the competition can disclose what is working for them and expose their weaknesses. Our professional search engine optimization consultants dig deep into your primary competitor's websites and work with you to create strategies to dominate them on the Internet.
Our SEO campaign performance is more than I could hope for in such a short amount of time. The competition doesn't know what hit them!" L. Raposo
---
Website Optimization
Optimizing your website is the primary function of SEO. Modifying the off-page and on-page elements of your website to help Google, Bing and Yahoo understand where you want to be found is as important as keyword analysis. Many SEO firms say they can optimize copy and code, but we've been building websites and custom web applications since 2000. Our development team is as good as our SEO group at dealing with the technical elements of SEO that can keep your site from reaching the first page.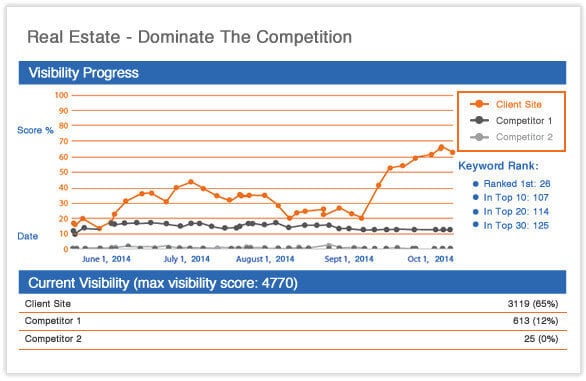 FACT: Google makes 500-600 changes to it's ranking algorithm every year.
Website visitors and leads are way up since the redesign and SEO campaign. I can't thank you enough. J. Daniels
---
Backlink Building
Building links from relevant websites is a time consuming process. We have numerous proven methods and techniques to obtain links to the right websites that help influence your rankings. Backlink building is one of the riskiest activities in SEO. We don't hunt links just to build your link count. We use linking strategies that support our overall SEO plan and ensure your site isn't penalized for improper linking. While relevant, high-quality links are an important factor in SEO, the process requires time and patience. If your website has been penalized for spammy links, we can help get them cleaned up and put your site back on the right track to positive rankings.
---
Content Development/Copywriting
As we all know, "Content is King," and a strong content strategy is critical to converting your website into a sales machine. Content shouldn't be written strictly for search engines or you risk turning off your site visitors before you've ever had a chance to speak with them. Quality copywriting starts with the goal of converting visitors and builds keyword ranking goals into it. In addition, search engines love new and unique content. Once you've written your primary page copy, how do you make it new on a regular basis? We call this "active content" and we have strategies that are affective and efficient. Saving you time and money while creating value for search engine optimization, email marketing and social sharing.
Since DoubleDome took over my search engine optimization, we've got multiple websites ranking on the 1st page for the same keywords. Total domination! N. Jackson
---
Local Search Optimization
Local search generally focuses your site to customers seeking products or services in their specific area. These types of searches generally display a map of local business listings with key content and address information. DoubleDome has programs that specifically target searchers using mapping and reviewing services to locate a business close by. A larger number of these visitors purchase when they've found a location near them. Tie this concept to mobile SEO and you might have someone in the car looking to drive directly to your location. That's immediate ROI!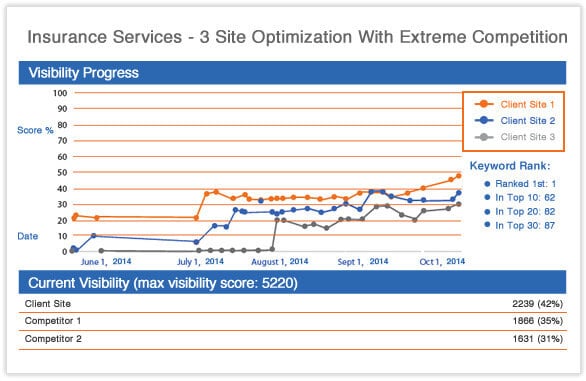 ---
Mobile SEO
Mobile SEO used to be an advanced strategy that only big corporations worried about. With the proliferation of smart phones, mobile search is growing by leaps and bounds. How many times have you done a quick search for a restaurant, shop or business in your area? We'll now mobile SEO should be on every business owners mind! Mobile-friendly sites will now have preference in search results. Read more
FACT: 1.8 billion people own a smartphone.
---
Ecommerce SEO
In a perfect world, a searcher finds a link to the exact product they're looking for, adds it to their cart and checks out. Not the home page, not the contact page, but the product page. Ranking well for your product detail pages help smooth out the user experience and drive more sales. We're experienced ecommerce website developers and can help get your products in-front of more customers looking for you.
---
Website Activity Reports
Monitoring your website traffic is crucial to knowing anything about your Internet marketing efforts. How many visits you get? How many new visitors? What pages do they view? How long do they stay? Where are they coming from? DoubleDome will set up analytics and monitor the activity to ensure your SEO campaign is performing as it should. We examine the website traffic and where it came from to determine which channels are driving the most visits. We then plan what modifications should be made to increase the traffic from the ideal prospects and customers looking for your products and services.
---
Website Audits, Ranking Reports & Competition Monitoring
We know that many SEO consultants keep their clients in the dark when it comes to how a campaign is going. We believe in total accountability for our campaigns. We provided summary and detailed reports on the monthly SEO tasks our consultants complete. Monthly technical audits of your website to ensure it is healthy and not undermining our SEO efforts. Keyword ranking reports for all major search engines. Competitive comparison reports so you know how you're doing against them, and we continue to expand and improve these to let you see everything.
When our competition started to pass us in keyword rankings, DoubleDome SEO came in and put us back in the lead. R. Gold