By admin
E-commerce is expected to escalate by 246.15% by 2021. This is after a reported increase of 1.3 trillion to 4.5 trillion in 2021. E-commerce is rapidly consuming current economic practices. Physical stores often can't compete without implementing e-commerce practices and options. In fact, over 56% of in-store purchases are now influenced by internet commerce. If a business isn't reaching out to customers online, it is most likely losing revenue and passing up sales potential.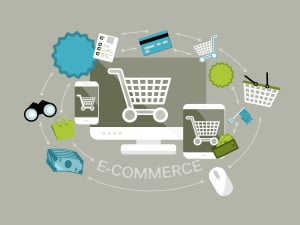 As the internet, itself changes at the blink of an eye, so does e-commerce. With every new year come new trends and frameworks for establishing successful marketing campaigns. The following trends are expected to kick-start e-commerce businesses and marketing attempts in 2019.
Native Shopping
Experiments show that users of various platforms, like Facebook and Instagram, prefer to consume content directly on those sites, instead of leaving to visit an external source of content. It goes without saying that a good e-commerce business will insert their products and services into those apps. The Facebook marketplace is an excellent choice for businesses to sell and market via Facebook. Alternatively, Pinterest has also made strides to promote online selling. With these efforts, users will only exit the platform when finally making a purchase.
Virtual and Augmented Reality
Welcome to the future, which is now. Augmented and virtual reality technology has advanced extremely quickly over the past few years, alone. Likewise, e-commerce and internet marketing has found a place within these recent technological advances. Customers now have the option of viewing a product in their own home before making a decision to purchase or not. Businesses are already working to make it a standard to offer augmented and virtual reality options to customers. Home improvement and furniture companies, including IKEA, have discovered that customers are significantly more likely to buy a product after viewing it in AR.
Image Search
Google has already experimented with image search technology. Image searching involves using photos and visual images to search the web, instead of words and language. It is estimated in fact that image searching, along with voice search, will become the primary mode of product research for 50% of online customers by the year 2020.
Every ecommerce developer should be aware of the forthcoming changes to the business landscape of the internet. Keeping up with current trends is among the most important elements of running successful marketing campaigns and achieving maximum clicks and sales.