By Jim Clanin
In the last few years, the economy of ecommerce has grown in leaps and bounds. In 2014, the Department of Commerce reports that ecommerce sales grew past $300 billion for the first time, with a total of $304.91 billion. A trend of growth of approximately 15% has been happening since 2010 and is expected to continue in years to come.
If you are thinking about stepping out into the ecommerce world, it couldn't be a better time. To be successful, you have to have a solid plan. In this blog, we'll discuss some key ingredients to a successful ecommerce business.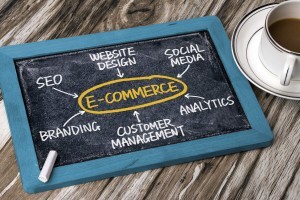 User Experience
The most challenging aspect of shopping online is not being able to touch, feel, smell, or see the product before making the purchase. To compensate for this, you must prioritize having strong product descriptions and images from various angles taken by a professional photographer. The experience for the shopper is important. If they are going to purchase your product without being able to touch and feel it, then it needs to be worth the risk. Consider offering free shipping, making sure your pricing is appropriate, and providing an easy checkout process.
Before the Launch…
Launching your website is the most exciting part, but don't rush it. It's essential to make sure that everything works properly with testing. The last thing you want is to find out there is a glitch somewhere that has prevented your customers from purchasing your product. It's also highly important to make sure you have all your "ducks in a row" including SEO, social media, PPC advertising, and content strategy.
Listen Closely to Social
Social media is a huge contributor to any ecommerce business, and it's important that you stay tuned in. While it's very common to outsource your social media activities or to have an in-house social media manager, it's also highly important that you as the business owner pay close attention. You will get lots of feedback from social media about your products, customer service, prices, and promotions.
Product Reviews and Testimonials
Customers love to see what others think of your product before making a purchase, so be sure to include product reviews and testimonials on your product pages. Also, be sure to include the option for users to "share" your product on their social media accounts. Take advantage of your biggest advocates!
Be Mobile Friendly
Shoppers love the convenience of online shopping, and now with mobile shopping on the rise, the convenience is getting easier and easier. Shoppers are now using their mobile devices to shop, which could be while commuting on the bus to work or while sitting in the lobby at the doctor's office. They can buy whatever, whenever with online shopping. If your ecommerce website is not mobile friendly, talk to a web developer today!
SEO is Ongoing
The biggest mistake I see business owners make is thinking that SEO is a one-time event. Having a strong SEO strategy is crucial for an ecommerce business. As the ecommerce economy continues to grow, so will your competition. Be sure you stay connected to a skilled SEO consultant to ensure your competitiveness.
Build a Strong Marketing Plan
You may be an expert in your product, but you will most likely need the expertise of a marketing professional. Competition is fierce – so make sure your marketing is too! A good marketing consultant will help you develop a strong, consistent plan and will know the best practices to help you with PPC, social media, email marketing, and everything in between.
If you are getting ready to launch out into the ecommerce economy, don't do it alone! Work with an ecommerce website consultant who knows the ins and outs of ecommerce. DoubleDome has helped countless ecommerce businesses build a website with a competitive strategy. Call us at 888-799-6067 or fill our consultant contact form for more information.