By Jim Clanin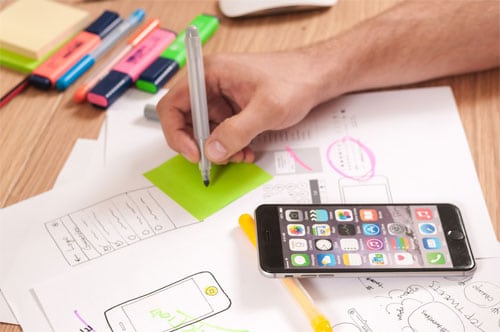 Today, the rapid growth of mobile technology continues to impact businesses. A skilled web designer offers valuable assistance creating effective commercial sites specifically for small screens. This trend continues to shape the rollout of many new e-commerce sites.
The Concept of "Mobile First"
Since the initial development of ecommerce, businesses maintaining online sites have sought to appeal to the widest possible audience. Attracting more visitors tends to increase traffic statistics. It may ultimately result in more conversions and, ideally, higher sales volumes. An oft-repeated adage maintains sales constitute "a numbers game," for example.
Yet recently, some marketers have pointed to significant differences between sites designed for large screen PCs, and those catering to portable technology users. Most businesses strive to produce "mobile friendly" ecommerce website design. Recently, some developers suggest this focus should reflect a "mobile first" approach instead.
Some Advantages of Multiple Ecommerce Websites
The mobile first movement contemplates the development of websites designed specifically with small screens in mind first. For some businesses, including companies in Atlanta, this approach requires the creation of two unique commercial sites: one geared towards mobile technology, and the other directed towards larger screens.
Creating two distinct marketing websites offers some key benefits:
Easier website maintenance and updating;
The ability to appeal to both PC and small screen users;
Typically, faster page loading speeds on mobile screens.
This process does require a site owner to work diligently to maintain inherent brand coherency across the two platforms, however. Marketers need to ensure they present the same consistent pricing information, for example.
Statistical Support For Mobile First Design
Developer James Brooke recently argued "mobile friendly" no longer serves the swelling population of prospective customers relying upon portable technologies. He notes Statista suggests this demographic has accounted for 50% of website traffic since 2017. Mobile gadgets may soon become the predominant devices allowing customers to visit merchants in cyberspace.
By producing a dedicated "mobile first" website, a business ensures the optimization of displays for small screens. Aspects of site navigation and content may differ, enabling streamlining to facilitate rapid page loading speeds on smart phones and tablets. Ecommerce sites may even supply apps to customers to ensure seamless access.
A Few "Mobile First" Design Tips
Some helpful points assist companies launching a "mobile first" site:
Remember to perform regular operating system and application updates.
Maintain brand coherency across your different company platforms.
Don't hesitate to rely upon a minimalist design (this helps improve loading speeds on small screens).
Don't neglect customers using PCs and accessing your other website.
Consider some patrons may access your website(s) at different times using different technologies.
Invest in the expertise required to create a well-designed, rapidly loading commercial site for mobile technology users.
Of course, developing a mobile first site won't necessarily address every site loading and navigation issue. It still makes sense to test the display of this commercial product carefully. Consider testing utilizing several different types of hand held devices. Mobile first development offers SEO advantages. Adopting a "mobile first" approach often enables companies to obtain SERP improvements.
Obtain Knowledgeable Ecommerce Developer Services
Creating a business website directed towards smartphone and table users requires expertise. In the Greater Atlanta Area, companies frequently discover benefits in outsourcing this project to an experienced Atlanta Ecommerce Website Design team. Don't hesitate to take this step to ensure your firm does not overlook an important segment of the online marketplace!