By Jim Clanin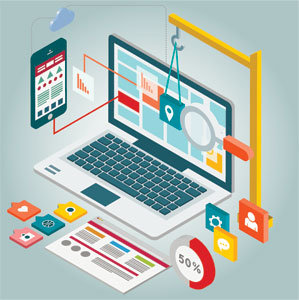 Converting website visitors into satisfied customers greatly interests a typical Atlanta Ecommerce Website Design team! This goal enables online sites to provide steady streams of revenue. We'd like to share six ways to help optimize web traffic conversions through careful ecommerce website design.
The Problem of Low Website Conversion Rates
Low conversion rates pose a problem for businesses. Have you taken steps to improve the chance your site will achieve this important commercial objective? Consider using six techniques:
1. Ensure Your Site Loads Well on Small-Screen Mobile Devices
Many websites that appear attractive on desktop computers or laptops don't load well on smaller screens. Today, consumers frequently surf the Internet using smart phones and tablets. Consider testing your site in a series of devices to ensure optimal display properties. If you encounter problems, you might consider developing different version of the same site for PCs and mobile technology.
2. Add a Search Function
Experts recommend adding search capabilities to your website, particularly if you maintain a multi-page site. Sometimes visitors seek only one particular service or brand. If they cannot locate an item of interest quickly, they may seek another online vendor.
3. Embed Videos on Your Site
Today, embedded videos significantly increase consumer interest in shopping websites. If possible, try and include one (or more) of these presentations. Prices for business videos vary widely. Adding this feature will cause many casual visitors to spend more time perusing your site.
4. Preserve Some "White Space"
Savvy e-commerce site creators recognize the design importance of leaving some uncluttered "white space" available. Taking this step prevents a page from appearing overcrowded. Striking a harmonious balance between filled and empty space proves critically important from a visual standpoint.
5. Pay Attention to Photo Quality Issues
Fuzzy or blurry product images on business websites may result in a loss of traffic. High standards for photos and graphic design help e-commerce sites create more attractive, welcoming commercial venues. Many online visitors maintain a low tolerance for poor photo quality; modern customers usually want to see products sold online as clearly as possible. Investing in high quality photos often boosts conversion rates.
6. Emphasize Interactivity
Finally, most experts recommend providing interactive websites, to the extent possible. Many customers appreciate the ability to leave feedback, for instance. Adding personalized features helps promote sales!