No matter how long you've been in business or had a website there is always potential to benefit from search engine optimization (SEO). It might seem overwhelming at first, but it's not something you need a master's degree to figure out. Ideally, the principle is to capitalize on 80 percent of benefits with only 20 percent of the total work. Well, how do you do it? Take a look at these options.
Keywords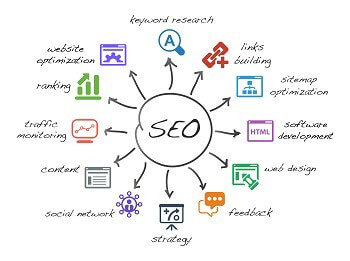 Never underestimate the benefits you can derive from using relevant keywords which is something all Atlanta website companies like DoubleDome Digital Marketing would tell you. Your goal is to improve your search engine results and keep your customer's attention once they arrive. Optimize your pages to focus on their existing rank and how much volume it holds for searching. Keep these ideas in your mind to get your creative juices flowing.
Use the elements of your business including your services and location to capture the most traffic.
Utilize keyword research tools such as browser extensions, the Google ads keywords tool, and the Google search engine itself. Google offers keyword suggestions along the bottom of the page, which can give you some insight into what your competition is using to drive traffic.
Expand your selection to include variations of keywords and specific services that your business offers.
Organization
Your site needs to be easy to navigate. Users want it to make sense and if you want to convert, you'll need to stay competitive. You should have everything started on your home page and come down logically like a tree. An example of your structure could be:
Homepage
Locations
Services
Contact
Optimization on your Page
Your page title shows what each site is about. It's one of the first and most influential aspects visitors see when they click your links. Focus on including these elements in your page titles:
Variation of your keywords
Include your business location
Add your brand on every page
Convincing call to action when relevant, such as offering a free quote or consultation
Page Content
Always produce content that is easy for your visitors to read and structured well. A giant blob of text is unappealing. Add headers, bullets, and images to your site and posts to capture and keep traffic on your site. Avoid overstuffing your posts with keywords so it doesn't sound like your content is computer generated.
Search engine optimization can be a difficult task, but it's not impossible to learn.