Local SEO can be a quagmire that many small business owners would sooner avoid completely than step into. To help you out a bit, we've listed a quick guide to local SEO. Like never before,  SEO is never been more important. Apps like Yelp and Foursquare have become an essential part of modern life, and Google's algorithms are focusing more and more on local listings. We've been Atlanta SEO consultants for over 15 years and have some suggestions to help you get on the map… pun intended.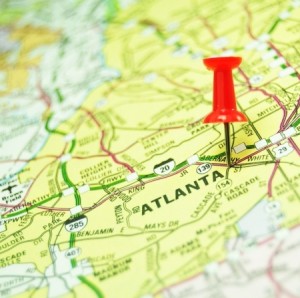 Why is local SEO so important?
Maybe your coffee shop has the best locally roasted coffee in Atlanta's Highlands neighborhood, but your business isn't as busy as you want it to be. When you Google "best coffee in The Highlands, Atlanta" your café doesn't seem to even be in the results. Meanwhile, the coffee shop down the street is always packed, and they appear on the first page. What's the secret? Local Atlanta SEO. That, and good coffee!
Getting Started
Back in the good old days, all you had to do was make sure your YellowPages listing was correct. These days, the elements are the same, but the media is a little different.
1.  Get Your Info Straight
Consistency is everything. Make a list with all these details so you can be sure it's the same on every website you list your business on.
Business Name
Physical Address
Logo
Business Categories
Social Media Links
Web Address
Contact Info
Hours
Services/Products Offered
Service Area
2.  Get Verified
When you list your business, most sites will want to verify that you're the real owner to prevent fraudulent listings. Automated phone calls, Emails, and postcards with a verification PIN (sent to your listed address) are the 3 most common verification methods. The phone call is usually the quickest way to verify your site. Unfortunately, if there's incorrect information in your profile, you probably won't be allowed to change it until after you've completed the verifications.
3.  Get Listed
There are a handful of sites you'll need to list your business on. We suggest you start with the biggest search engine in the game.
Google+/Google Local: In order to create a Google Local listing, Google requires you to have a personal Google+ account. You can then submit your listing and verify your business via a phone call or a postcard.
Yelp: If you have a brick-and-mortar location, especially if you are a food establishment, you have to get your business on Yelp. Slap some stickers on your window and ask customers to provide a rating. But don't offer free items in exchange, since this violates the terms of service agreements for most sites.
Foursquare: Foursquare users compete to become the mayor of your business, checking in and sharing their activity with their entire social networks. You want this!
Facebook: If you haven't done so already, create a page for your business. Be sure to add your address to a page, and update regularly. Organic growth is the only way to increase your influence.
Bing Local and Yahoo Local: Bing undoubtedly drives less traffic than Google, but it's important to maintain a presence there. Plus, it's another place for other sites to confirm your information.
It's going to take you a little time, but this guide to local SEO is pretty easy and will offer a big payoff. Of all the things you can do to improve your local SEO, this is definitely one of the simplest, and you can get started right now. As Atlanta SEO consultants, we've helped plenty of businesses here and across the country improve their local SEO, and this is a great way to start.
So, how's your Local SEO presence?