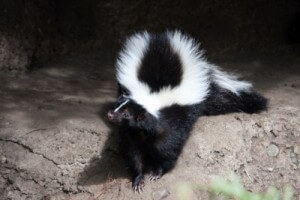 Every time Google updates their search algorithm, SEO experts and website owners scramble to make sure they aren't getting penalized. The Panda and Penguin updates shook up the system and dramatically changed the way Google ranks results – and the way search engine optimizers earn those results.
Of course, we're just speculating about the Skunk thing. It seems like Google loves black and white animals, and lots of people really think they stink. Here a few tips to avoid getting skunked by Google's upcoming algorithm update.
Double and Triple Check Your Backlink Profile
Have you had your website for more than 5 years? Chances are good that you've got some bad backlinks (links from other websites that point back to yours). In many cases it's not your fault, and you may not even be aware of it. But Google will still penalize you for low-quality, spammy links.
If you've used an SEO firm in the past, it's a good idea to check your backlink profile. Back in the early days of SEO, many search engine optimization firms used less than admirable tactics to game the system. If you find you have a ton of spammy websites pointing to you, consider the Google Disavow tool. This allows you to tell Google not to look at certain links when creating your ranking. However, it's a last resort tool and should be used carefully- learn more about it in our post from earlier this year.
As Always, Original Content is Vital
The last update left many businesses reeling, after they were penalized for duplicate, low-quality, keyword-stuffed content. One contributor to bad content can be guest bloggers. While there are plenty of good guest bloggers out there, some of them will sell you plagiarized or spun content and pass it off as original, which isn't just dishonest – it wreaks havoc on your SEO. Lucky for you, there are some free tools available to detect duplicate content. Check out Copyscape and Copygator.
But remember, you're an expert in your field. No guest blogger can understand your business and your target market quite like you, and taking the time (regularly!) to write your own relevant, original content is an investment that will, slowly but surely, pay off in your rankings.
Don't Jump the Gun
Until Google actually releases an update, remember that this is all speculation. We can make educated guesses about what Google will be changing based on their previous updates, but we won't know for sure until the update is official. Don't go crazy weed-whacking through your backlinks and content. Start by pulling a few spammy links and evaluating your content for authenticity and relevance, and air on the side of caution.
Staying on Google's Good Side
The days of traditional link-building are gone. According to SEO industry leader Rank Fishkin of SEOmoz, website owners and search engine optimization firms are now living in the age of link earning. There's no quick fix, but there's one thing that Google has always loved: great content. How do you create it?
Diversify your landing pages and keywords
Don't over-stuff with keywords
Write naturally
While we can't guarantee that Google will call their next update "Skunk," we can almost promise that it will be earth-shattering for a lot of people. Don't be one of them! Write high-quality, original content and keep your link profile diverse.
Are you ready for Google's next update?