By Jim Clanin
Almost everyone has or uses a smartphone or tablet, and this year hand held online searches and usage are expected to exceed desktop usage, if it already hasn't. With most mobile devices, you can expand and shrink web pages to show an entire web page or you can zoom in on a particular area of text or image that you're interested in or want to learn more about. Because users on mobile devices make decisions quicker than on laptops or desktops, you have to make sure your site is designed for the quick actions and needs of the mobile user. There are things you can do to your mobile web design that will make the browsing and searching experience better for the end user.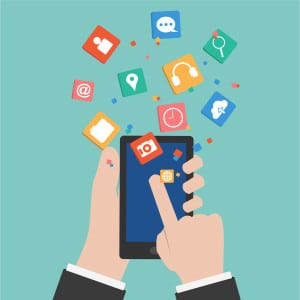 Consider Your Audience. When designing a web page for mobile or desktop usage, consider who will be using it and where. If your site has ecommerce, you would design it so that the user can easily add an item to the checkout and pay without hassle. If your website is more of a business card where your users go to get an address or phone number, make sure the address is smartphone compatible so they can easily be guided to your location, or they can click on the phone number on your site and immediately start calling your business. So make sure your site is designed for your target end user and how they will experience and use your sites elements.
The Screen is Small and Sometimes Tiny. Because smartphones will condense or reduce content columns into the tiny window the size of the device, it can make the text or content really difficult to read without zooming or making it larger, which can be bothersome. To avoid this, design your mobile site with one long column of text, instead of several, allowing the user to scroll instead of zoom. Also, because one long page and lots of scrolling can be difficult to read if there are long segments of text, consider dividing the text based on appropriate subjects and put them on multiple pages.
Test on Several Different Devices. Although some web design software provides a preview of what the website looks on a smartphone or tablet, it is still really important to physically test the webs site and different pages on as many mobile devices and smartphones as you can. While the samples given by some software are nice, because you're often viewing them on a desktop, they don't allow you to fully experience the site as a mobile user would. Click on the phone number, links, and images, etc. and test for yourself if the site elements are easy to use, especially on a tiny screen. So test your site on as many actual mobile devices as you can.
Long Link Text. People's fingers vary in size, as much as their smartphones and tablets do. Because of this, if there are too many links close to one another, it can be hard for a user to click on a specific link without having to zoom in to click on the exact link and not accidently click on a close neighboring link. Keep links distant from each other within text, and create links that are 3-5 words as opposed to links that are 1-word links. This will make it easier for a user to click on a link without having to zoom.
Navigation. Smartphone and tablet screens are small, and so the real estate on the screen is very important and valuable. To help your users not have to page through screen of links to get the information they want, put the content and headline at the top and the navigation below. Or, hide the navigation completely if your navigation links with CSS or JavaScript, so it appears only when the user asks for it.
Images. Images used for mobile sites should be small in dimensions and download time. If a user is on a cellular network, you don't want them to have to pay for downloading large images or navigation icons on your mobile site. Also, make sure your images are optimized.
These are just a few tips to consider when designing a website for mobile users. If you want your mobile website to be more tailored to your user, call DoubleDome Web Technologies. We can talk on our mobile devices about making your mobile website user-friendly!