Atlanta, GA | August 23, 2023 – Google made an official declaration about the launch of its latest core algorithm update last August 22, 2023.
In SEO, staying updated with the latest algorithm changes is crucial for maintaining a strong online presence. One such significant event is Google's August 2023 Core Update. As a leading search engine, Google regularly tweaks its algorithms to enhance user experience and provide more relevant search results. 
Google's core updates are broad changes to its search algorithms, affecting how websites are ranked and displayed in search results. These updates aim to improve the overall quality of search results by prioritizing websites that provide valuable, authoritative, and relevant content to users.
The August 2023 Core Update: What's New?
SEO experts and professionals in the field of digital marketing noticed initial signals of an unconfirmed modification to the Google Search ranking algorithm, which commenced on Friday, August 18th, and persisted until Saturday, August 19th.
Google's Official Announcement
Google made an official announcement about the second extensive core algorithm update of 2023 on the platform X (previously referred to as Twitter).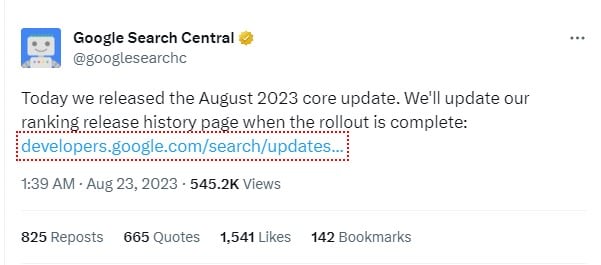 What Experts Are Saying?
SEO expert Barry Schwartz reported the update on platform X, enumerating minor variations in search outcomes and providing additional details about the core update.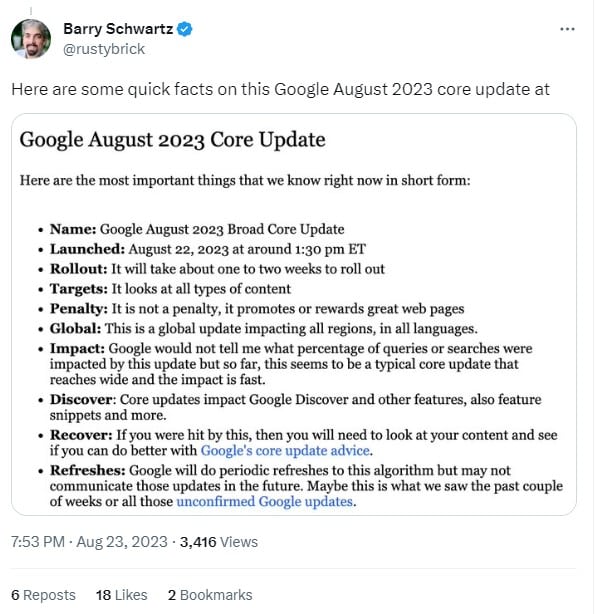 What You Need To Know?
With the August 2023 Core Update, Google introduces refined ranking factors to better evaluate and understand the content on websites. This update focuses on assessing a website's expertise, authoritativeness, and trustworthiness (E-A-T) more effectively. Websites that exhibit high E-A-T are more likely to see positive impacts on their rankings.
Following a core update by Google, your website's performance within search results can experience enhancement, decline, or remain unchanged. Understanding the timing of these updates offers a frame of reference to ascertain whether alterations in your website's performance stem from your modifications or shifts in Google's ranking algorithm. Given this recent disclosure, it's crucial to meticulously track your analytics and search rankings in the forthcoming weeks.
What We Can Do?
What we can do together is examine your website in real-time and offer solutions from DoubleDome Digital Marketing to enhance it. Subsequently, we will craft a personalized package that suits your needs, guided by our findings.
Click the link below to schedule a rankings strategy call with us 👇
Schedule a Rankings Strategy Call with Us
Excited to get a closer look at your website.