By Jim Clanin
Your website is the face of your company, and your very first sales pitch which is why it should be a top priority. What does your website say about your business? Does it engage your visitors in a way that entices them to stay and learn more? Or do your website visitors have to search hard to find information, making them frustrated to the point of moving on? It's important to consider how your visitors interact with your website, and what you can do to keep them from leaving and looking elsewhere. This blog will teach you five tips on how to keep visitors on your website.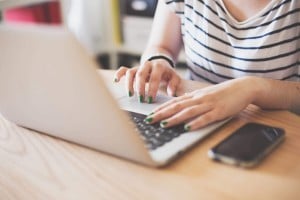 Keep it Simple
Write your content in a way that is simple and easy to understand. Overly complex words and details can be confusing and frustrating. Use short titles and statements to make your point. There are some details that are very important, so I don't suggest removing all details, but where possible, simplify.
Speed
The industry rule of thumb is that your website should load within 4 seconds. Yes, people are busy and impatient these days! Talk to your web developer about the speed of your website and what you can do to make it faster. Your web developer can run a test on your website to see what needs to be changed which may include enabling compression, adjusting image sizes, and enabling browser caching, along with some other more technical edits.
Mobile Friendliness
Mobile friendliness is no longer an option. According to Smart Insights, over 1.8 billion people own a smartphone. The use of smartphones to browse the web is continually increasing, and having a website that is not mobile-friendly will be a huge turn off to your website visitors. It's important to note that Google has also recently decided to start omitting websites from search results if they are not mobile-friendly. For more information about this, check out our blog post called "Will Your Non-Friendly Website Cause Your Search Results to Suffer?"
Social Media Icons
Social media is a very important aspect of marketing and is used to share information about your products or services. But remember that the purpose of social media is to draw people TO your website to learn more or find out how to contact you, not vice-versa. Considering this, I recommend that social media icons be displayed in the footer or header rather than the body of a website. Having them in the body will easily lead people off your website, which is the exact opposite of what you want them to do.
Font Size and Layouts
You may use a 12pt font on your company letterhead, but with a website, it's time to go big! Make it easy for your users to read what you have to say. Test this out by watching someone as they browse your website. Are they leaning into their computer screen? If so, increase the font!
Additionally, consider using columns for your text or wide margins to keep the width of the paragraphs on the smaller side. This will help the reader go from one line to the next without getting lost.
Need help keeping visitors on your website?
We've helped countless companies improve the user experience on their website, resulting in lower bounce rates and increased sales. Call DoubleDome at 888-799-6067 or use our online contact form to get a free consultation.