By admin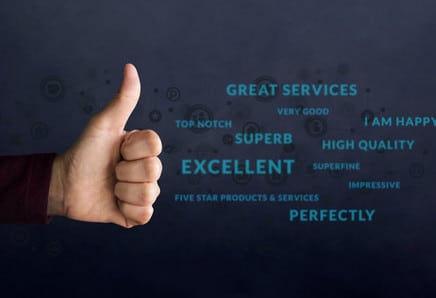 Built Trust to Inspire Customer Confidence
Companies furnishing the best WordPress support services to customers appreciate the vital importance of building trust in their brands. Skilled website developers seek to create sites capable of inspiring confidence in a company. Consider using some of these features to reassure customers about your products and services. These nine WordPress website Trust Signals help differentiate extraordinary customer assistance from mundane service:
1. Supply Genuinely Valuable Content
One important element of establishing customer trust in a brand involves providing useful content. This aspect of creating a WordPress site does require effort. Yet it ultimately conveys the value of the brand to customers.
2. Offer Customer Reviews
Today, allowing customers to supply website reviews serves as an important aspect of conducting business in cyberspace. Visitors may doubt whether or not an enterprise values their patronage if a site manager fails to encourage feedback. One study released in 2014 found that 88% of consumers indicated they trusted online reviews to the same extent as a personal recommendation!
3. Maintain Brand Consistency
Maintaining a uniform brand image on your website also instills trust in prospective customers. As they learn more about a firm's products and services, visitors seek congruity. This element also helps businesses gain public recognition more quickly.
4. Provide Site Security Features
Your online visitors also appreciate the availability of basic site security features. Especially if you market products or services on your website, this trust signal encourages shoppers to make purchasing decisions. Insecure websites sometimes drive careful shoppers away.
5. Cultivate Customer Interaction With Your Website
Skilled website designers also encourage customer interaction on websites. By allowing visitors to pose questions and receive answers, a site owner promotes interest in the business. Prospective customers obtain a greater sense of inclusion.
6. Supply Basic Contact Information
Today, Internet shoppers also appreciate the availability of contact information. Enterprises furnishing this data promote a greater sense of dependability and responsiveness. A business address and phone number inspire greater customer trust in your brand.
7. List Important Accreditation and Award Information
Has your firm earned accreditation or awards? Listing these accolades helps inspire greater confidence in your brand. Tell customers about these honors!
8. Include Site Navigation Features
Additionally, website design experts recommend creating easily navigated commercial websites. New visitors in particular appreciate the ability to move easily between pages. This process encourages them to remain and learn more about your company and its available goods and services.
9. Embed Links to Your Brand's Social Media Profile
Finally, don't forget to include links to your brand's social media sites and postings. Many online shoppers appreciate reviewing a firm's profile. Facebook pages, YouTube videos, and Instagram posts all assist casual site visitors in discovering the firm's goods and services. People often feel more deeply connected to your brand when they access this information seamlessly on popular social media websites, for example.
Customers Won't Revisit Untrustworthy Sites
Why should you use these features to help inspire confidence in your brand? While delighted customers will likely visit your site on a regular basis, developing a solid business relationship often requires time. Casual visitors won't feel inclined to revisit websites that appear untrustworthy. Problems associated with online scams make many Internet shoppers leery of patronizing websites that appear untrustworthy by failing to fully incorporate trust signals into their designs.