ATLANTA — January, 2021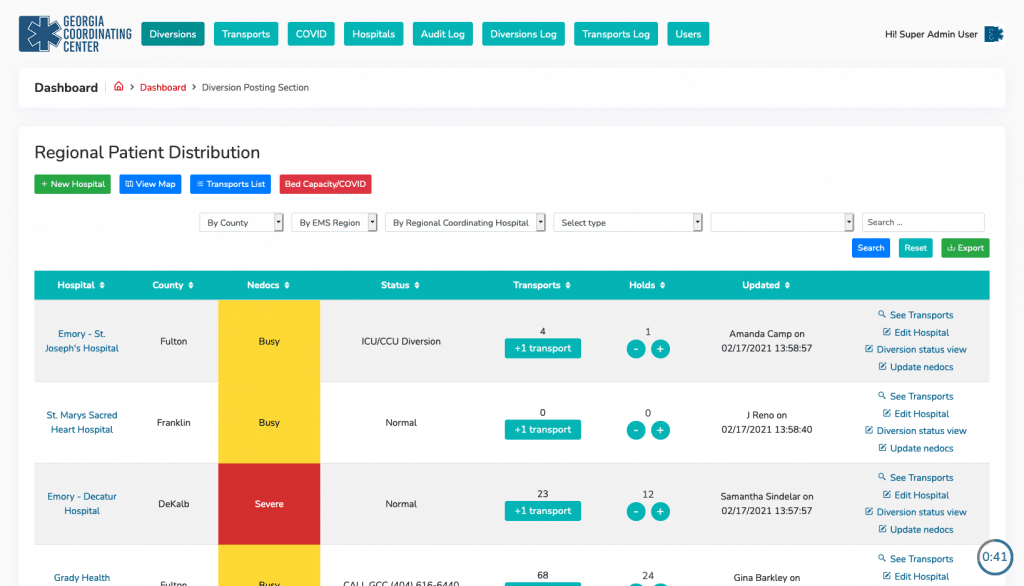 In partnership with our long time client at Grady, we have recently launched the Georgia Coordinating Center (https://georgiarcc.org/) to help hospitals all over Georgia better manage ambulance and bed capacity. The GCC system has become a vital tool during the COVID19 pandemic to show hospital bed capacity and ambulance services throughout the state of Georgia. Hospital admins and workers are able to quickly update status based on available resources.
The Georgia Coordinating Center is designed to help hospitals better manage emergency department patient volumes. This online tool gives real-time information on the status of hospitals experiencing a large intake of patients. This is vital for EMS crews making patient transport decisions in the field. The database displays the hospital's name, county, and status and auto-updates every 60 seconds. This gives EMS crews a situational awareness of a hospital's current condition and if they are accepting incoming ambulance traffic.
The GCC system was recently featured on 11Alive so be sure to read the article and watch the video.
Our hope is that this technology will help Georgia hospitals coordinate their emergency response amid the global COVID19 pandemic and potentially save lives. We are very proud of our talented team of developers. They've worked extremely hard on this invaluable online tool.
About DoubleDome:
DoubleDome Digital Marketing is an Atlanta web design company that provides a full range of Internet Marketing Services including Web Design, Ecommerce Development, Mobile Web Design, Search Engine Optimization (SEO), Website Support, and Web Hosting. DoubleDome is a single point-of-contact for all Internet marketing services for corporate websites, Ad Agency Outsourcing, Business web design, and retail e-commerce businesses across the country. For more information about DoubleDome, please visit their website: www.doubledome.com.
Contact Information:
Hollie Brown
Press & Public Relations