Duplicate content is perhaps the least-understood SEO problem there is. Most webmasters don't even know what exactly duplicate content is, let alone what its consequences are. In this blog, we are gong to take the time to explain what duplicate content is, what the dangers of having it on your site are, and the best ways to take care of it.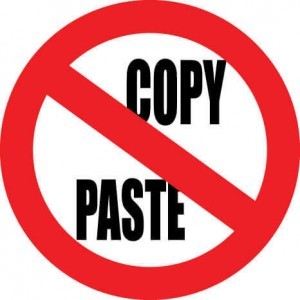 What is Duplicate Content?
Google defines duplicate content as "substantive blocks of content within or across domains that either completely match other content or are appreciably similar."
Duplicate content most commonly affects:
Ecommerce sites with similar products
Business websites with similar service pages
Websites that haven't setup a redirect between the www and non-www version of their site
Why Should I Care?
It's a common SEO myth that duplicate content receives a ranking penalty from Google. However, this is decidedly untrue; Google said so themselves.
However, if you sell two similar pairs of shoes (that have similar descriptions) on your website, it's likely that Google will only display one of those pairs in search results. That's because they won't realize that both pairs of shoes are likely relevant to the searcher's query.
How Can I Tell if My Website Has Duplicate Content?
There are expensive SEO tools that will help you determine whether or not your site's content has been duplicated elsewhere on the web, but the easiest and most cost-effective solution is to use a free plagiarism checker, since they hunt for duplicate content by design.
Unfortunately for you, finding duplicate content is the easy part. Now you have to get rid of it.
What Can I Do About Duplicate Content?
The solution depends on the specific problem, but it might be worth your time to hire a SEO consultant for advice. If you're determined, here are some common issues and their solutions:
Issue: One Page Appears on in Multiple Places on Your Site
You could always delete or rewrite one of the pages, but another easy fix is to use the rel=canonical tag. Simply go into the code of one of the pages and point it towards another site. This page explains how to do that. Once you've added the tag, Google will know to prefer one page over the other.
Issue: Your Site Does Not Redirect From www to non-www (or Vice-Versa)
If this is happening to you, your website is basically doubled in Google's eyes. That means that everything on your site is technically duplicate content. To fix the redirect, check out this article and choose the solution that fits your particular situation.
Issue: You Use Another Website's Content on Your Site
This is actually pretty common among sites that feature press releases. You can either modify the content, take it down, or accept that you will never rank for that specific piece of content.
Need Help? We've Got Your Back
Removing duplicate content isn't an easy task for someone new to SEO. Instead, you should consider hiring an SEO company to either walk you through it or take care of it for you.