By Jim Clanin
While large businesses have the resources to employ a web designer, or even a whole team, to maintain their web presence, the onus in a small business usually falls on someone who has already variety of other responsibilities.
It's easy for website maintenance to get pushed to the back-burner, but your potential customers are increasingly interacting with you through your website. In fact, it's often their first interaction with you. It's so important to make sure your website it current, relevant, and easy to use. Here are 5 simple ways you can make that happen every month.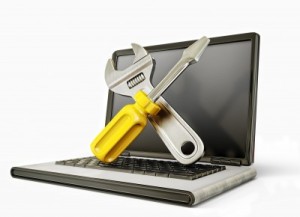 Current Contact Info
You wouldn't believe how many small business websites don't have a contact form or even a phone number. It seems obvious, but it's one of those things that many small businesses neglect when they do their own web design and development.
Every month, make sure your contact information is current. Something as simple as a misspelled email address of a call tracking service that isn't routing to your number could be costing you a lot of business.
Updated Promotions
If you're an HVAC specialist, a coupon for 15% off an A/C check makes a lot of sense in spring. Leaving that coupon on your website through the winter will just maker you look outdated and leave potential customers with an unprofessional impression of your business.
Make sure your promotions and deals are regularly updated. Customers will want to keep checking in to see if they might take advantage of a new sale.
Functional Links
Because the web is fluid, URLs are always changing. A link to a helpful resource, or even a photo, is a great idea on your website, but if those links don't work and images don't show up, your website is going to look abandoned and customers will lose faith in your services.
Check your site to make sure all links are functional and all photos load properly.
Quick Loading
Consumers are pretty impatient when it comes to waiting for a website to load.
This humorous slideshare details a few surprising stats:
Visitors expect your site to load in no more than 2 seconds
40% of visitors will leave your site if it takes longer than 3 seconds to load
For every 1 second of load time, conversion drops by 7%
For every 1 second of load time, user satisfaction drops by 16%
It might seem a little ridiculous that 1 second could make such a big difference, but that's the reality of consumer habits. Loading speed is something you might think of during web design and development, but it's a good idea to regularly use Google's Page Speed tool to see how your page load times are doing. Get some help from a web designer if your site is consistently slow.
An Active Blog
Small businesses with active blogs get 55% more website visitors and 97% more inbound links. This is great for your SEO, but that's not all there is to it. Visitors are looking for recent, relevant content. If you haven't updated your blog in months or even years, visitors may judge that your site is abandoned.
Depending on your industry, this list could go on and on. Website maintenance in a multi-faceted practice, and these are just 5 simple ways to keep your small business site fresh and effective. We encourage small business owners to schedule these kinds of monthly site maintenance tasks because we understand how easy it can be to forget about them.
What tips would you add?